• antelope • blog • chargers • diy • table scape • table setting • thanksgiving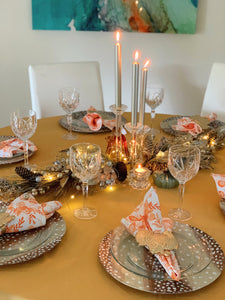 I first fell in love with the antelope pattern a few years ago when I saw it on a large area rug on my Instagram feed, ever since then I've seen it on more and more home decor items and I think it's here to stay for a while. As much as I'm a huge fan of cheetah print, I think antelope is more suited for a Thanksgiving tablescape - no real reason behind that opinion other than antelope gives a Fall vibe and let's save the cheetah print to mix with Christmas tartan, ok? Alright, let's start the DIY....
---
• blog • diy • Easter • eggs • spring • table scape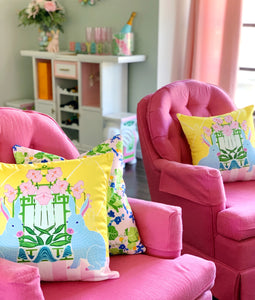 Decorating for Spring always makes me so happy - give me all the pastel colors, floral patterns and gingham! Since we will most likely be celebrating Easter in quarantine this year, I wanted to make sure our home was "egg-stra" festive. One of my favorite ways to decorate for Easter is using the colorful plastic eggs. This year I found sparkly eggs at Walmart and I used them to fill the bottom of my vase for a floral arrangement.  Another favorite diy that adds a special touch is painting faux eggs that can be brought out year after year. I...
---
• blog • diy • dresser • Faux bamboo • furniture • Painted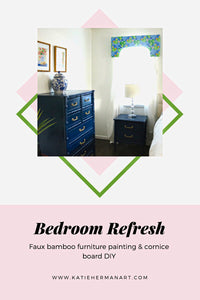 Part One : DIY faux bamboo dresser paint project I've been meaning to give our bedroom a little makeover for quite sometime and if you follow along on my Instagram @katiehermanart then you might know I've been thrifting for faux bamboo furniture and recently made my first set of cornice boards. Since I received so many messages about how I painted the furniture, I figured I'd share some secrets in this super easy DIY. First things first, let me share my major excitement over my "new" Henry Link Bali Hai highboy dresser. I won't take all the credit in finding this...
---
• blog • Christmas • diy • ornament
Leopard Ornament DIY If you are looking for a fun and easy holiday project, look no further! These leopard ornaments are the perfect project for a girls night, or make a bunch and use them as gift toppers - although you'll probably end up keeping them all for your own tree. I have listed the supplies that I personally used and purchased (this is by no means sponsored by any of the brands, that would be cool though..Michael's feel free to send me free stuff)  supplies: You can buy a whole sleeve of the plastic disc ornaments (at Michael's), and...
---
• blog • diy • Painted • pumpkin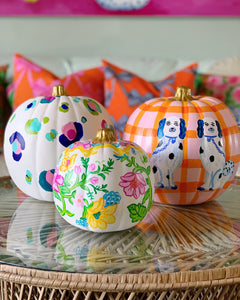 Pumpkin spice has nothing on painted pumpkins, there I said it. Today, I am sharing a festive DIY! If color is your jam and non traditional pumpkins make your heart sing...well then this is the project for you!  This painted faux pumpkin is super easy, I'm rating it a 2 on a scale of 1-10, and it's animal print, need I say more?? Alright, let's get to business. You can purchase all of the materials above at your local craft store. Faux pumpkins come in many sizes, the one I used was 10inches. It was already "white" but was more of...