• blog • diy • dresser • Faux bamboo • furniture • Painted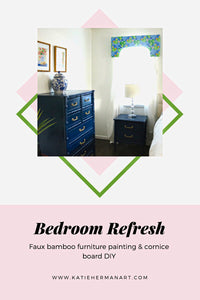 Part One : DIY faux bamboo dresser paint project I've been meaning to give our bedroom a little makeover for quite sometime and if you follow along on my Instagram @katiehermanart then you might know I've been thrifting for faux bamboo furniture and recently made my first set of cornice boards. Since I received so many messages about how I painted the furniture, I figured I'd share some secrets in this super easy DIY. First things first, let me share my major excitement over my "new" Henry Link Bali Hai highboy dresser. I won't take all the credit in finding this...
---
• blog • diy • Painted • pumpkin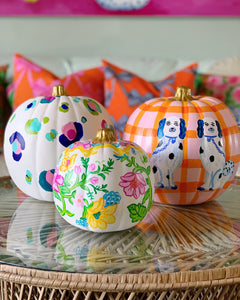 Pumpkin spice has nothing on painted pumpkins, there I said it. Today, I am sharing a festive DIY! If color is your jam and non traditional pumpkins make your heart sing...well then this is the project for you!  This painted faux pumpkin is super easy, I'm rating it a 2 on a scale of 1-10, and it's animal print, need I say more?? Alright, let's get to business. You can purchase all of the materials above at your local craft store. Faux pumpkins come in many sizes, the one I used was 10inches. It was already "white" but was more of...